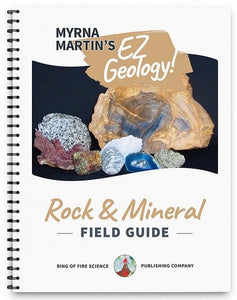 Ring of Fire Science
EZG Rock and Mineral Field Guide by Myrna Martin
Regular price
$24.95
$0.00
Unit price
per
Family friendly field guide
The EZ Geology Rocks and Mineral Field Guide is designed for anyone who likes to collect rocks and minerals. It is a fun hobby for the whole family. 
The field guide is just the right size to carry in a backpack when you go on a hike looking for rocks.
The guide can also be used to identify rocks your students have collected over the years that are in boxes. Students living in one area can exchange rocks with students who live in a different location where different types of rocks are common.
Many geologists like this field guide for their children and students when they go on field trips.
Four major sections in the field guide
Igneous rocks

 

were once molten rock that formed igneous rocks above or below ground. Volcanoes are mountains of igneous rocks.
Sedimentary rocks

 

cover 75% of the Earth's surface. Sandstone, coral reefs, and limestone formations in caves are examples of sedimentary rocks.
Metamorphic rocks

 

are changed rocks. Crustal plates colliding creates metamorphic rocks. The Himalaya Mountains are mountains of metamorphic rocks.
Minerals

 

are the building blocks of rocks. At the present time there are 5,400 minerals that have been named. Using the Keys in the field guide your family can use the process of elimination to identify most of the minerals in your collection.
Color pictures
Color pictures of many rocks and minerals are included in the guide. This will help you and your students identify rocks they collect.
Rock charts
The charts in the book are based on characteristics taught in our Igneous Rocks, Sedimentary Rocks, and Metamorphic Rocks series of books. 
Mineral identification keys
The keys to identifying minerals used in the minerals sections of the field guide is taught in the EZ Geology Mineral Identification book.
Throughout the field guide you will find useful charts, rock pictures, and written information to help you in the identification of rocks you collect. 
---
Share this Product
---